Madam Elizabeth Asantewaa, a 13-year-old girl who lost her leg in a bomb attack during Kwame Nkrumah's ceremony, died recently.
Mensah Thompson, a civic advocate, anti-corruption activist, and human rights campaigner, disclosed the terrible situation on Facebook.
He expressed himself as follows:
I have just learnt of the unfortunate passing of madam Elizabeth Asantewaa, the 13 year girl who was maimed by a bomb attack on Dr.Kwame Nkrumah.
A few days ago the Hon Rockson Nelson Dafeamekpor Etse made an emotional appeal on the floor of Parliament for the State to take care of this helpless woman after several years of neglect.
As part of efforts to get the state to support this woman, ASEPA also added our voice to the passionate call by the Hon.Member of Parliament.
It is sad learning that Madam Elizabeth Asantewaa did not live to see the fruit of our Advocacy.
We call on the State to give her a befitting burial State burial in honor of the ordeal she suffered through no fault of hers.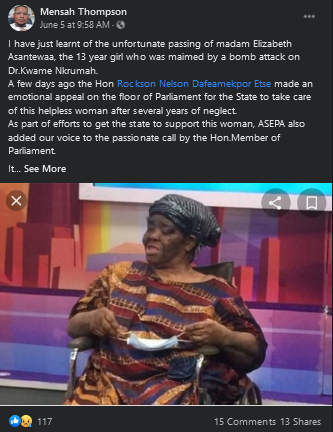 Popularly known as the webmazta; Cobby Collins is an established web designer, a computer instructor, and content creator.
You can contact him via email [email protected] or via Whatsapp only on +233204875306