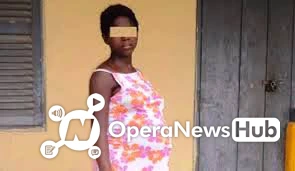 A final year student of Greater Grace preparatory school in the central region of Ghana identified as Isabella Baah gets pregnant in the course of the school break that was enforced to check the spread of Coronavirus.
the alleged 16-year-old girl claimed she got pregnant with one of her school mates who is also a final year student. according to the teachers, she is a very brilliant girl and they never suspected her to be found in such an act.
according to some analysis, she might have gotten pregnant before the school break as her belly has already protruded.
In a normal circumstance, she together with the boy would have been dismissed from school but according to the authorities of the school, the final examination is nearly due hence they would allow here go through without being punished