Princess Shyngle recently filed for divorce, alleging that her spouse pulls a pistol on her if they have a disagreement. As a result, she is no longer willing to maintain the marriage.
The Nigerian actress's online post drew a lot of attention and reactions.
Princess Shyngle's husband, Gibou Bala, has also sent a letter to his wife, asking her to forgive him.
According to Princess Shyngle's husband, Gibou Bala, he confessed to pulling a pistol on her and beating her, but that does not permit her to divorce him.
Gibou Bala begs his wife Princess Shyngle to come home in a posted message, promising that he would never lay his hand on her or even pull the gun on her again.
Read his article in full below.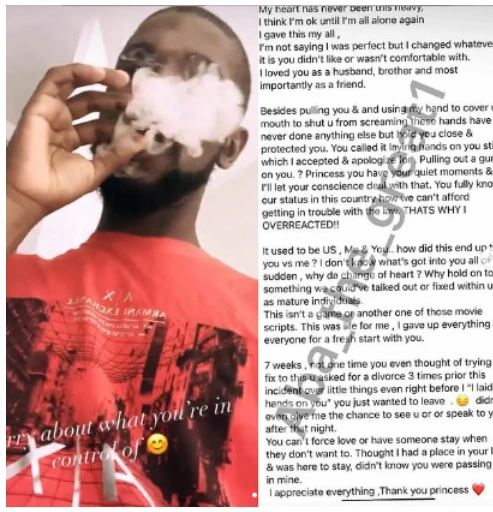 ABOUT AUTHOR
Adinkrah Cyril is an established web designer, computer instructor, and content creator. He creates blog content for bestshowbiz.com as well as it's associate strings of websites.
As a content creator, Adinkrah is good at his work and his engaging contents have earned him a nomination as one of the best bloggers in the country. Contact Adinkrah Via Email
You can also contact anyone associated with bestshowbiz,  through the website's contact page located on the header of the website.