Africans have a very terrible attitude towards physically handicapped people. People with impairments were once thought to be useless and unproductive in Africa.

They saw their existence as a result of witchcraft or a form of punishment meted out to those who bore such offspring.
Many people were denied the opportunity to attend school, while some were slain inexplicably, and others were abandoned beside the riverbanks.
As a result, a large number of these physically handicapped people wind up asking for arms on the street.
As they grew older, many people developed an "inferiority complex," which prevented them from fully exercising their fundamental rights. Parents have warned their children about associating with physically challenged people on several occasions.

These victims' thoughts are frequently dragged into depression by this emotion. Many people are deprived of the opportunity to form friendships with others.
Despite all odds, this blind elderly guy has made a living selling coconut.
What we find most impressive is how he climbs the coconut tree by himself and cuts the coconut to remove the husk for his clients. He even displayed how he made calls on a cellphone, demonstrating his business acumen.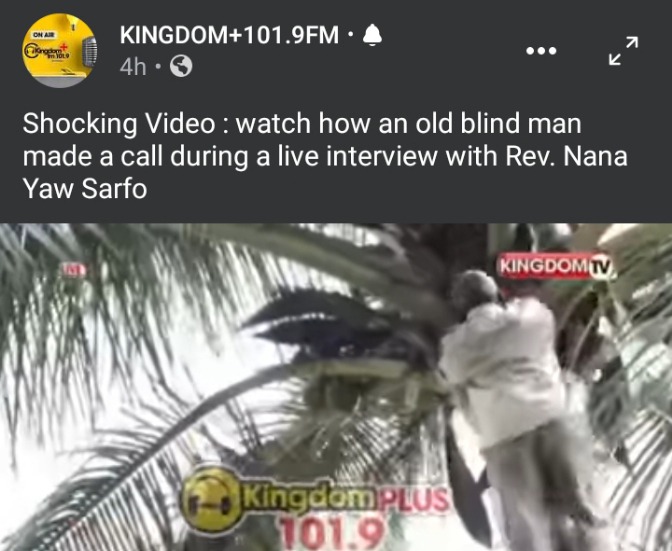 The elderly guy told Reverend Nana Yaw Sarfoh on Kingdom Plus yesterday how he was blind as a youngster owing to an unexplained eye ailment.
"When my aunt came to get me and bring me back to my mother, I noticed my eyes had turned a different color," he explained.
"My mother rushed me to Korlebu hospital when she realized what was wrong with me, but all of her efforts were in vain since no one helped her. "

"My mother became irritated, and she was told she could not feed me any longer. However, it was revealed that I would go blind when I reached the age of ten. When I went to school, I could see a little bit, but I told my instructors afterward that I could not see the board. That is when I decided to quit going to school. "

Finally, the country's young people were urged not to engage in criminal activity, but rather to work hard to succeed.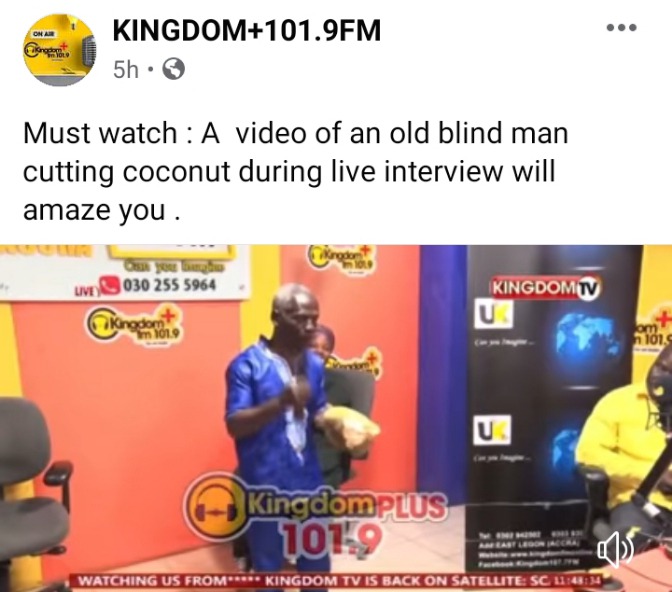 ABOUT AUTHOR
Narnarh Berry have been creating content for blogs which includes Buzzgh.com and bestshowbiz.com, contact Narnarh via email
You can also Contact anyone associated with bestshowbiz, through the website's contact page located on the header of the website.