Ghanaian Artiste Fameye has savagely replied a fan who said Ghanaians are tired of his song all being about his suffering.
Fameye recently sang the praise of the rap legend Okomfour Kwadee in a new song which he posted online to promote. Shortly after, one fan told him to change his style of music and theme because Ghanaians are increasingly becoming tired of his one-way style.
"Chale, squad for get different content give Fameye waa. Every song he go make biaa the content be 'nothing I get' like ebi only am p3 dey struggle for life. Tsw" the fan tweeted.
Fameye who couldn't keep calm upon viewing the fan's reply, also responded: "Tins only go bee for you on social media !nokwr3 bia nim? Go lisin all my sngs I drp not features I no get 1 single Sef I talk say I Dey suffer for inside nothing I get sef I no talk say I Dey sofa just my recent song I did to honor Kwaadee is actually the song I sed … kwasia".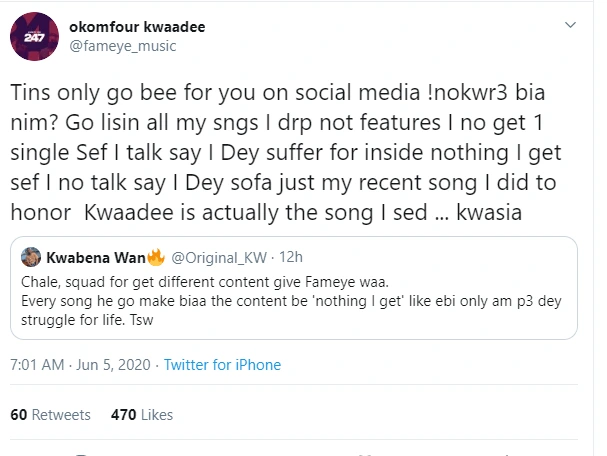 This same comment passed to Fameye is like history trying to repeat itself comparing it to what happened to Bisa Kdei in the days he was prominent in his career. It could be recalled that Ghanaians told Bisa K. Dei that they were tired of his monotonous 'funeral' songs and afterward, he faded in the industry till now.
Lets hope Fameye's situation does not follow the same route as Bisa Kdei's