Chisom Agoawuike (Halita), a stunning young lady who goes by the name @iamhalita on Twitter, has revealed that she has married her high school teacher.
The gentlemen had come to teach in Chisom's school as part of his mandatory national service after graduation from tertiary school, according to Chisom.
Chisom was in SHS 2 at the time, and she says that the instructor beat her up a lot in an effort to punish her and keep her in shape.
How it all began vs. how it's progressed – the couple describes how their love tale progressed from grass to grace.
See the following post for more information:
Chisom disclosed that the biggest reason her husband used to scold her back then was that she was late to school, and that although he meant well, it was not her fault.
She clarified that she was expected to help out on the farm every morning before leaving home because she came from a family where they had to work hard to make ends meet.
She says so herself:
He was always flogging me for coming late to his class but I never told him that we had to go to the farm every morning before coming to school.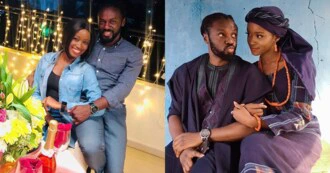 ABOUT AUTHOR
Adinkrah Cyril is an established web designer, computer instructor, and content creator. He creates blog content for bestshowbiz.com as well as it's associate strings of websites.
As a content creator, Adinkrah is good at his work and his engaging contents have earned him a nomination as one of the best bloggers in the country. Contact Adinkrah Via Email
You can also contact anyone associated with bestshowbiz,  through the website's contact page located on the header of the website.